Massive Acclaim For DARK MATTER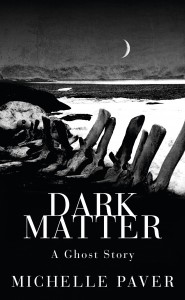 Michelle's hotly-anticipated ghost story, DARK MATTER, has been published in the UK to massive critical acclaim.
"Dark Matter is brilliant" enthuses bestselling novelist Jeffery Deaver.  "Imagine Jack London meets Stephen King. The novel virtually defines a new genre: literary creepy. I loved it."
"Compelling… direct… relentless" writes Helen Rumbelow in The Times.  "Dark Matter is terrific. It is a ghost story, but it is also a metaphysical meditation on what lies beneath our little lives."
"It's a spellbinding read" agrees Eric Brown in The Guardian.  "The kind of subtly unsettling, understated ghost story MR James might have written had he visited the Arctic."
"The ultimate test of a good ghost story is, surely, whether you feel panicked reading it in bed at midnight" writes Emma John in The Observer. "Two-thirds through, I found myself suddenly afraid to look out of the windows, so I'll call it a success!"
"This is a blood-curdling ghost story" agrees Victoria Moore in the Daily Mail, "evocative not just of icy northern wastes but of a mind as, trapped, it turns in on itself."
"Paver has created a tale of terror and beauty and wonder" writes Suzi Feay in the Financial Times.  "Mission accomplished: at last, a story that makes you check you've locked all the doors, and leaves you very thankful indeed for the electric light. In a world of CGI-induced chills, a good old-fashioned ghost story can still clutch at the heart!"
"Jack becomes sure that an evil presence is trying to drive him away from Gruhuken" Joan Smith writes in the Sunday Times.  "Paver records his terror with compassion, convincing the reader that he believes everything he records while leaving open the possibility that his isolation – and the class barrier he feels so acutely – has made him peculiarly susceptible to emotional disturbance. The novel ends in tragedy that is as haunting as anything else in this deeply affecting tale of mental and physical isolation."
"Paver is the mistress of suspense" agrees Amanda Craig in her review of children's books for Halloween in The Times. "The strangeness that humans can suffer from when exposed to the Arctic wilderness is brilliantly exploited in this period piece."
DARK MATTER deals with an expedition to the Arctic that goes badly wrong.  By a strange quirk of fate, the publisher's promotional video for the book is eerily similar to film of another (real life) polar expedition that is premiered on the day of DARK MATTER's launch.  The two videos are shown below.
Read about the writing of DARK MATTER here.