Ask Your Questions Here!
But Before You Ask...
Although Michelle will try very hard to respond to your message, please understand that she's very busy writing! So before you ask – PLEASE READ THE ANSWERS PAGE to see whether she's already answered your question!
DON'T ask "Where can I buy your books?" here… click here for info.
Privacy: Your question together with Michelle's answer will be publicly posted here on the "Michelle Answers!" page. Only your first name will be used to identify your question. If you are younger than 13, please ensure you have your parents' permission before you send a question or comment. Do not include personally-identifying information in your question or comment, such as an address or phone number. By submitting a question or comment on this form you agree that it may be publicly posted on this website.
OK, Go Ahead & Ask…
"Where can I buy your books?"
If you want to ask a question about where you can buy Michelle's books, don't ask Michelle but do ask her publishers as below:
WOLF BROTHER Books One To Six, THIN AIR & DARK MATTER
Orion Books
Email enquiries@hachette.co.uk
VIPER'S DAUGHTER, SKIN TAKER & WOLF BANE and WAKENHYRST
Head of Zeus
Floor East, 5-8 Hardwick Street, London, EC1R 4RG
Phone +44 207 253 5557
The GODS & WARRIOR Series
Puffin Books
Email customersupport@penguinrandomhouse.co.uk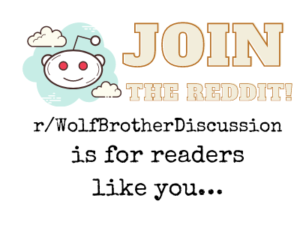 Continue the chat!
Join the Wolf Brother Reddit and chat with other readers between shows https://www.reddit.com/r/WolfBrotherDiscussion/