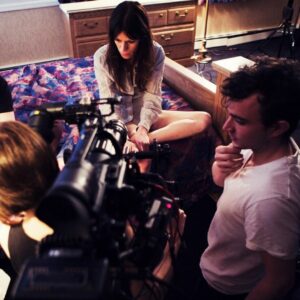 Students from Britain's renowned National Film and Television School (NFTS) have been hard at work to create a YouTube commercial for SKIN TAKER, the latest book in Michelle's bestselling WOLF BROTHER series.
Choosing the winning commercial was an impossible task for Michelle, her publishers and The Elf… so after whittling it down to a shortlist of three, it was decided to ask YOU, Michelle's readers, to vote for the eventual winner.
You can watch the three commercial below. Then scroll down the page to find out which one topped the voting…
---
DIRECTOR – XAVIER CARBO
---
DIRECTOR – WILL DOLAN
---
DIRECTOR – ZEYNEP OGUZ
And the winner was…
Zeynep Oguz!
Michelle says:
"Many congratulations to the hugely talented Zeynep Oguz for her marvellous SKIN TAKER ad!  It's so imaginative, so moving, and so perfectly in tune with the spirit of the book.  I absolutely love it, and I've no doubt that Zeynep is destined for great things!"