"Chilling in every sense!"
The Mail on Sunday
"This vivid ghost story reads like a classic"
Sunday Mirror
"Michelle Paver's descriptions of Himalayan mountain-climbing are terrifyingly lifelike — the lashing winds, glittering ice: you can see it all.
Her depictions of its dangers are terrifyingly deathlike, too, and the growing menace of the high-altitude phantom is horrible.
The peak is unclimbable for reasons other than geography. Paver's style is lively and clear, and the tale just rips along.
It's scary, but in a reassuringly old-fashioned way.
No moral relativism here, but lots of action, great characters and a nice big mountainous metaphor rearing above it all. Just fantastic."
Daily Mail
"Eerie, unsettling… gets under your skin"
Daily Express
"Like Touching the Void rewritten by Jack London, Thin Air is a heart-freezing masterpiece."
The Guardian
"I was surprised and delighted to find this an utterly absorbing tale that I think I would have read in one sitting regardless – once I began I didn't want to put it down!"
BOOKPHACE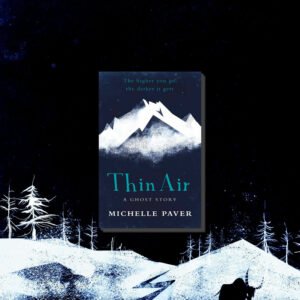 "It is rich in atmosphere, the environment stunningly described. Kangchenjunga is a formidable character in its own right and it is a deadly one. But it is also such a satisfying ghost story, so perfect for these darker evenings, and it is wrapped within a beautifully told and sad tale. Thin Air succeeds as an excellent ghost story and horror novel but it is also a wonderful piece of historical fiction and I thoroughly recommend it."
FOR WINTER NIGHTS blog
"Thin Air is a must-read for any would-be or actual adventurer, mountaineer or weekend warrior…  If you only read one ghost story this year, make it this one!"
ButBooksAreBetter
"Powerful, creepy, evocative – rest assured, Thin Air proves a more than worthy follow up to Dark Matter!"
Gill Chedgey / Nudge-book.com
"She has created an atmosphere so palpable it chills you to the bone"
This Is Horror
"Gosh, but Thin Air is a creepy story. Paver squeezes the last drop of desolation and isolation out of her Himalayan setting…
Of course, of course, of course, I recommend Thin Air to you!"
TheBookBag.co.uk
"While comparable to Michelle Paver's Dark Matter, this is I think very much the better book… the ecology of its horror is much more complete: while lacking none of the horror of the other book, it is all more satisfying."
Blue Book Balloon
"A fantastic description of the majesty of the Himalayas and a wonderfully creepy ghost story.  In equal measures it showed why some are irresistibly drawn to these mountains and why, possibly, they shouldn't be.  This would be a great read for Halloween (but make sure you know exactly where you left your rucksack…)"
Jane & Bex Book Blog
"Looking for a proper ghost story?  Thin Air is a creepy, compelling tale of a Himalayan climbing expedition, where strange events on the mountain stir dread and panic."
Good Housekeeping
"There's just something about the bleakness, the sheer depth of the isolation and the unfamiliarity of this terrain to me that I love in this book. Put that alongside the fact that it's a mix of psychological thriller and ghost story , and you've got a winner."
REBEL ANGEL blog
"Thin Air is undeniably gripping and a genuine page-turner"
GLASGOW HERALD
"If you've read Michelle Paver's previous ghost story Dark Matter, you'll know how well she can build a creepy, unsettling atmosphere – and she's done it again here, in a very different environment. I for one couldn't put the story down but needed to read on to the final resolution before trying to sleep!"
OUR BOOK REVIEWS ON LINE
"I cannot recommend this book enough. If you enjoyed Michelle's previous ghost story, Dark Matter, you'll love this one. If you love anything supernatural, a bit scary, ghostly, then you'll enjoy it too. It's a fantastic read that's absorbing and totally paralyzing. Beautifully, lyrically written.  A five star read if ever there was one!"
EMPIRE OF BOOKS
"The hair on the back of my neck stood up. Very macabre and creepy"
The book Rest
"Paver's elegantly-crafted ghost story holds you in a vice-tight grip… Thin Air is an edge-of-your-seat reading experience that will leave you frosty-fingered and shivering as you hurriedly leaf through its pages to reach its startling climax."
SciFiNow.co.uk
"If you didn't think it was possible for a book to be scary, just you wait.  I can see this being one of those books I'll enjoy reading year after year, without it losing any of its impact. It's a powerful and genuinely chilling book.
Grab this book and snuggle up tight under the covers – and resist the urge to pull back the curtains and look out the window; you never know what might be staring back at you."
Ealing Times
"This haunting new novel and long-awaited sequel to the chilling Dark Matter by Michelle Paver certainly doesn't disappoint. The plot of Thin Air is undeniably gripping and a genuine page-turner.  If you enjoyed Dark Matter, you'll love Thin Air. Step in with enthusiasm and excitement, yet the greatest of caution…"
North-West Evening Mail
"Michelle Paver climbs the heights with a tale of horrors… stark and gnawing tale of horrors lurking at the limits of human endurance and beyond. If you enjoyed Dark Matter, you won't be disappointed this follow-up"
The Sydney Morning Herald
"Impeccably researched, carefully controlled and terrifically told, Thin Air is a brief but brilliant exploration of the extent of human endeavour. It's about the incredible things people, when pushed, can do… and the terrible things, too."
Niall Alexander, Tor.com
"A hauntingly, spine chilling epic of a book!"
Mr.s Blogs Books
"A wonderfully atmospheric and hugely enjoyable ghost story"
Anthony Horowitz
"Spellbindingly creepy"
Sunday Express
"Like Touching the Void rewritten by Jack London,
Thin Air is a heart-freezing masterpiece"
The Guardian
Kangchenjunga.
Third-highest peak on earth.
Greatest killer of them all.
Five Englishmen set off from Darjeeling, determined to conquer the sacred summit.
But courage can only take them so far.
And the mountain is not their only foe.
"DARK MATTER is one of the books I have been most proud to publish – truly dark and terrifying" says Jon Wood, Publisher of the Orion Publishing Group. "THIN AIR once again demonstrates that Michelle Paver is one of the most fluent and powerful storytellers of our time."
Michelle explains her fascination with the Himalayas:
"Unable to sleep one night, I came across some mountaineering books in my study, and read into the small hours. I read of the great Himalayan expeditions of the '20s and 30s: the fever for the summit, the loneliness of high places; the delusions and the dread. On a mountain, the tragedies of the past can feel all too present. I thought, 'what if there's a ghost?'