"Paced like summer blockbusters, the novels open with a bang and pick up speed from there… hugely entertaining… Paver's prose is clean and energetic"
The New York Times
"Like other great children's books which also entrance adults, Wolf Brother conjures up an utterly believable, yet original world where the story grips you to the very last page."
Sir Ian McKellen : Narrator of all the audiobooks in the series
"WOLF BROTHER gripped me from the very first page. It has the three qualities of a classic children's book. Attractive characters. Relentless pace. And superb writing. Added to which, it explores a world that was virtually unknown to us with real insight and authority. This really is a book that stands out from the crowd."
Anthony Horowitz, author
"The kind of story you dream of reading and all too rarely find…The descriptions of an ancient world are wonderful. The vivid prose leaps off the page."
Amanda Craig, The Times
"A thrilling narrative with authentic flavour founded on thorough research. The text is well-honed and rhythmic, and moves with terrific pace. A haunting and heroic adventure with appeal for boys and girls"
The Times Educational Supplement
"A gripping tale that rings true to our understanding of that distant time"
Julian Richards, BBC History
More Than Three Million Copies Sold
Now In 35 Territories Worldwide
Winner of the Guardian Children's Fiction Prize
Six thousand years ago.  Evil stalks the land.  Only twelve-year-old Torak and his wolf-cub companion can defeat it.  Their journey together takes them through deep forests, across giant glaciers, and into dangers they never imagined.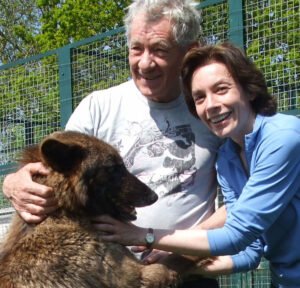 In this page-turning, original, and spectacularly told adventure story, Torak and Wolf are joined by an incredible cast of characters as they battle to save their world, in this first book in the Chronicles of Ancient Darkness series.
The audiobook for this and the entire Chronicles of Ancient Darkness series is narrated by Sir Ian McKellen (pictured with Michelle meeting a wolf!).
"Getting the idea for WOLF BROTHER was a bit like having an unplanned child: very welcome, but decidedly inconvenient. I was still writing the Jamaican trilogy, but once Wolf had got hold of me, he wouldn't let go. Somehow, I had to find a way of finishing WOLF BROTHER, making a start on SPIRIT WALKER, AND writing THE SERPENT'S TOOTH. I promised myself that I would never again write two books in one year."